If you think about it, sometimes rules drive us crazy! Should we lock or not lock our homes? The way we all understand it is that door locks must remain secure (that's the point of investing in them anyway)! Then we hear about the dangers of keeping the doors locked while we are in the house for avoidance of entrapment during emergencies. Once we start coping with these rules, we read about ways to childproof the house and the main rule is keeping all doors locked and giving priority to cabinet lock installation. It can be confusing if you don't break down things to see what the fuss is all about and what are the golden rules.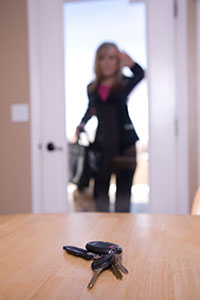 The simplest rules are the best
Let's start from the beginning! The main rule of keeping the house locked is the only way to avoid crossing paths with a burglarsomewhere between living room and kitchen. The whole argument revolves around the types of locks you use. In many areas, double cylinder deadbolt installation is not permitted. Double cylinder locks are of the highest security since they lock and open with a key from both sides of the door. Building requirements in some regions forbid people from installing double cylinder locks so that they won't be trapped inside in case of an emergency.
Though, if there are no official restrictions and you aim at the highest home security possible, double cylinder security door locks will really make a difference. In order for you to avoid safety problems, keep the keys on the door when you are at home. The problem starts when there are kids in the house. We love and cherish them, but must also admit that they are climbers like no other. They will open every door and climb to the highest window just to imitate you or discover what's in the cabinet or out there. By keeping the doors locked, installing various cabinet locks around the house but also removing the keys from the locks, we can protect them.
So, if you have children, don't get double cylinders unless you don't mind seeing your children wandering in the street alone. The basic and simplest rules are always the best because they truly make sense. Therefore, keep the main doors locked but make sure they open quickly so that you will avoid entrapments. Keep some internal doors and cabinets locked to protect the children andkeep the keys in your pocket. Choose the right locking systems for both doors, windows and cabinets so that your family will be safe, your home will be secure and your access will be easy.